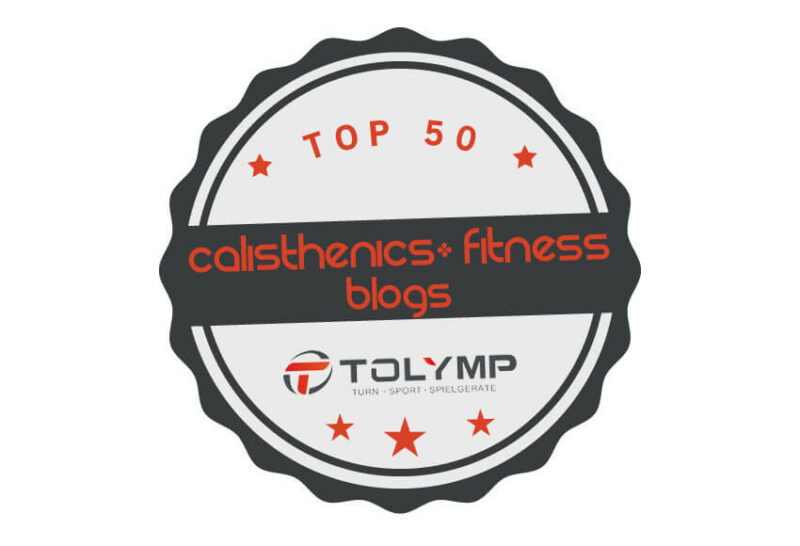 Top 50 Calisthenics and Fitness Blogs - 2023
There are many blogs about calisthenics and fitness on the internet. Some of these blogs go to great lengths, while other blogs often only cover topics superficially. Since we ourselves are in the area sports and gymnastics equipment are active, we can't avoid reading fitness blogs and keeping ourselves up to date.
Consequently, we have created a list of our top 50 calisthenics and fitness blogs in 2022. We read these blogs regularly and find the commitment and the depth of the topics particularly impressive. This is not to say that other blogs are worse - by no means! We certainly don't know all the blogs that exist on these topics.
Nonetheless, we would like to give a special mention to these top 50. There is no placement or ranking. First place is just as worth reading as last place. Feel free to write your favorites in the comments!
Let's get started with our favorite blogs...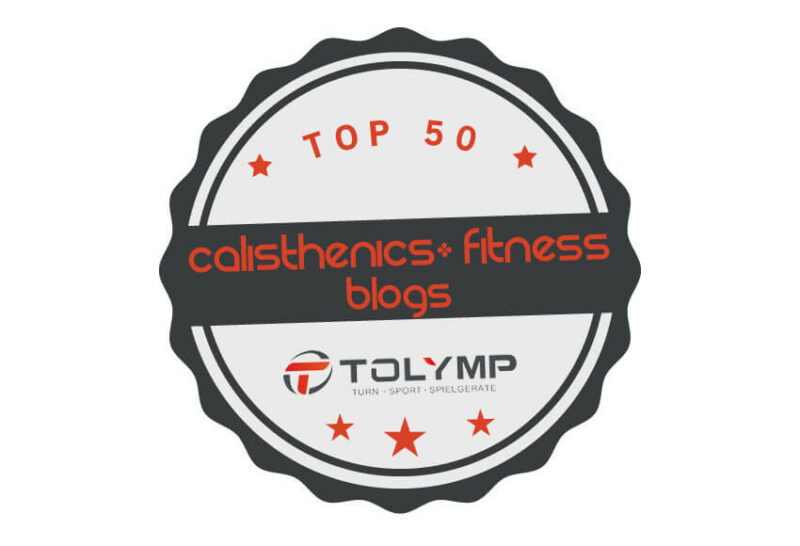 1 Fitnessfirst Blog – Workouts for Anywhere and More…
Everyone is certainly familiar with the fitness first. There are several gyms throughout Germany under the name. The Fitnessfirst from the inside is always well and modernly structured. In addition, there are calisthenics areas in more and more gyms.
But not only here the fitness studio convinces with quality, but also in the blog. You will find a lot of practical tips that you have not read anywhere else before. We particularly like the article about calisthenics because it describes the topic perfectly and at the same time gives practical tips.
The blog is below blog.fitnessfirst.de callable!
2 Mrs. Sporty - Weight Loss and Women's Fitness
Even though Mrs. Sporty is really just for women, we also really enjoy reading the recipe articles. A lot of effort is being put into this. The pictures are all of high quality and were made by myself. The recipes are also great as a meal or for in between.
Furthermore, the personal is offered through success stories. We look forward to more delicious recipes in the future. We can only recommend the blog for a healthy diet and inspiring recipes.
The blog is below www.mrssporty.de/fitness-und-ernaehrung-blog/ callable!
3 Perform Better Blog – News about functional training
There is hardly any other blog that is so up-to-date when it comes to functional training. For example, the story of leopards and bears is particularly interesting. There are many more such contributions that not only give you something to take away from sport. However, competitions are also held here or general guides are published.
It all has a very objective touch, which we really like. You can literally read the professionalism here.
The blog is below www.perform-better.de/blog/ callable!
4 Sport Tiedje – all about fitness and sport
Today, Sport Tiedje is Europe's number 1 when it comes to home fitness. You can get sporting goods and clothing in the online shop. But that doesn't mean it's a good blog. However, the blog is also of high quality. What's particularly entertaining are the themed workouts.
This includes, for example, the "galactic Star Wars workout" – which, by the way, is a lot of fun. But there are also very personal blog posts. These are, for example, interviews with employees.
The blog is below www.sport-tiedje.de/blog/ callable!
5 MarathonFitness Blog – Mind and Body
The MarathonFitness Blog is run by Mark Maslow and his team. Mark has very interesting posts here. It's not just about fitness, training plans or nutrition, but Mark also brings in the so-called mind-muscle connection very strongly.
This can be seen, for example, in the blog post "7 positive affirmations that transform your thinking and your body". The free guides are just as helpful and offer real added value compared to many other free PDF documents. Whether you're a beginner or an expert, everyone will find engaging content at Mark.
The blog is below www.marathonfitness.de/blog/ callable!
6 Bootcamp Blog – Exciting information in addition to fitness trips
The website for the "Original Bootcamp" is much more than just a blog. It's actually an insult to limit the site to the blog, but we can't avoid it this time. The bootcamp blog covers topics related to nutrition, training, news as well as motivation and other topics related to fitness.
We especially like the scientific approach of the studies. This is where we, as advanced people, take the most with us. But also in-depth topics such as "Sport against depression" are discussed here. So there is something for everyone and you can take something away from every article.
The blog is below www.original-bootcamp.com/blog.html callable!
7 Functional Training Magazine – Online and offline…
Functional training is also very important to us. The magazine has a really scientific touch, which we like. Here you will find very detailed articles such as information on the ISG blockade or the piriformis syndrome as well as training tips for certain muscle groups.
In addition, the hot topic of neuro-athletics is explained and treated very well. If you would like a scientific approach to the subject of functional training, you will find everything on the website!
The blog is below www.functional-training-magazin.de/ callable!
8 Jumping Fitness Blog - Trampoline Jumping and More!
Jumping fitness is also a rising trend that is becoming more and more popular. If you want to get to grips with the emerging sport, you will find very practical approaches and training tips here. However, the blog is also about healthy eating and delicious recipes.
For us personally, the contribution "Healthy Travelling" was able to offer a lot of added value. A really comprehensive blog that gives a lot of information about a healthy lifestyle can be found at Jumping Fitness.
The blog is below www.jumping.fitness/de/blog/ callable!
9 [ALLROUND ATHLETICS] – Training and Lifestyle
Coach Zimo and his team write on Allround Athletics about a wide variety of training forms. From bodyweight training and calisthenics to the perfect start to endurance training or mobility, a balanced diet, as well as mindset and motivational topics.
It's about more than just looking good. It's much more about feeling good in your own skin and enjoying an active lifestyle. In order to keep the community of all-round athletes growing and motivating, there is even a new one every week free training plan directly by email.
The blog is below www.allroundathletics.de/magazin/ callable!
10 Online Fitness Coaching – all about fitness
We can only recommend this website for beginners. Here you can find all the basic information about fitness and strength building. The blog focuses mainly on the topics of "training" and "nutrition". Exercises or complete training plans are presented here.
The hotly debated topic of supplements and dietary supplements will also be presented. Through interviews on the site, the beginner also learns how the pros train and can be motivated by it. The blog is ideal for beginners and slightly advanced users.
The blog is below www.online-fitness-coaching.com/ callable!
11 Klarafox – Mind and body
Klara also manages a wonderful balancing act between fitness and health to mental training and mindset in her blog. In addition to her book, which has been available in bookstores since April 2019, there are many delicious recipes as well as articles that are very profound. For example, these posts deal with the topic of satisfaction, being burned out and much more.
Finally, the topic of self-confidence is also strongly discussed here. All in one you will find many articles and information about a healthier and happier life. The nice thing about it is that it all comes across as very authentic. This is also one of the reasons why we have included the blog.
The blog is below www.klarafuchs.com callable!
12 endurance blog - cardio and more with Torsten
The endurance blog is run by Torsten Pretsch and is mainly about health, competitions and endurance. The so-called "snackable" content is interesting here. Some posts give short tips on how to find motivation for stability training, for example.
However, Torsten also addresses gadgets that are essential for running in a very professional manner. This includes, for example, sports watches and much more. If you are a real running fan, you will find the blog of life here!
The blog is below www.ausdauerblog.de/blog/ callable!
13 Elbgym – exciting stories at a professional level
The Elbgym is a super modern gym in Hamburg. But the fitness studio proves its professionalism not only through good trainers, but also through excellent contributions on the blog. The story of Max, whose chemotherapy is documented, is red hot and interesting.
However, myths such as low carb are also dispelled. Beginners and novices will really find answers to all their questions here on the blog. Even as an advanced user, you can have questions such as "training and illness" answered here.
The blog is below elbgym.de/blog/ callable!
14 3Bears – porridge and health
3Bears attaches great importance to health and balance. You can see that in the blog posts, which are designed with a lot of effort and love. Very personal stories such as the Porridge World Cup can be found, as well as nutrition tips for active people.
However, 3Bears is also much more than just a health blog. Here it is much more directly about an entire lifestyle - health and balance as well as closeness to nature. If you just want to slow down or do something good for your body, you should visit the blog.
The blog is below 3bears.de/blogs/blog callable!
15 Julie feels good – clean eating and fitness
Julie designs her blog very personally and lovingly. She mainly deals with the topics of clean eating and fitness, with nutrition being the main focus. I like the spinach balls best. But there are also helpful guides, such as on the subject of carbohydrates, or personal contributions. For example, Julie introduces her workout playlist.
Even if things have to be done quickly, Julie knows how to eat healthy and delicious. If you are looking for inspiration in the kitchen and would like to try clean eating, you are welcome to have a look at Julie's blog.
The blog is below juliafeelsgood.de/ callable!
16 hellofit – gym with that certain something
Hellofit has several locations throughout Germany and is a very modern gym. For example, you can find the Vibrafit plate here with great instructions and instructions in the blog. Since not everyone has a lot of time, the Vibrafit plate is a good alternative.
But not only such information can be found in the blog, but also information on healthy nutrition and health in general. In addition, exciting "side issues" such as motivation and the weaker self are addressed.
The blog is below www.hellofit.de/blog/ callable!
17 Aesthetics blog by Peter Böhm – Aesthetics and optics in the foreground
On Peter's blog you can really find out everything about aesthetics and fitness. The topics of clothing, stations and equipment, gadgets, training plans and nutrition are all dealt with here. However, there is also a separate section called "Lifestyle & Motivation".
In my opinion, the most interesting thing is the training plan configurator. After all, there are still many ignorant people who don't have a proper training plan and consequently, that's why most injuries happen.
The blog is below www.aesthetics-blog.com/ callable!
18 Jules Vogel – Lifestyle, fitness and health
In her blog, Jules focuses primarily on vegan nutrition. In fact, I always eat vegan for one month of the year. Unfortunately I can't make it any longer. However, there are also articles on vegetarian recipes, so that vegans and vegetarians will always find sufficient inspiration here.
Jules is also very personal and authentic. She also presents her training plan or gives her opinion on fitness programs. As a beginner, you get just as many tips on the subject of fitness as, for example, in the article "Fitness training at home".
The blog is below www.julesvogel.com callable!
19 func-FIT blog – exciting approaches and information on the subject of health and fitness
In the Functional Training Blog you will find posts that you have never seen before. For example, the most recent article is about Japanese forest bathing. But not only such information and tips for a more balanced life can be found there, but also scientific contributions that help you enormously in training. Here I am thinking of the post called "Comparison of Single-Leg Training & Bilateral Training".
Personally, I find the posts very exciting and always up-to-date, so the Func-Fit blog is a must-read!
The blog is below func-fit.de/fitness-blog/ callable!
20 Sportsköln Blog – Anti Stress and Pro Fitness
When reading the Sportsköln blog, you quickly notice the experience of the gym. Beginners will find practical tips and advice here. However, topics such as spring fatigue or stress and relaxation are also addressed.
After all, these are aspects that are just as important as pure weight training. Personally, I really like the free e-book. This is a really informative eBook on the subject of fascia training. The practical examples and tips are particularly helpful.
The blog is below sportskoeln.de/fitness-blog/ callable!
21 Online Gym - reviews of courses, products and more
Benjamin not only gives his experiences on fitness courses, products or more, but you can also find exciting articles, recipes and advice on the subject of fitness and health.
Otherwise you will find a very good overview of current products and gadgets at Benjamin. I was particularly interested in the area of ​​dietary supplements. After all, this is a hotly debated topic.
The blog is below online-fitnessstudios.com/blog/ callable!
22 Selection Fitness – concentrated expertise in the blog
The blog quickly reveals the professional competence of the trainers. The blog has been divided into the categories Beginners, Nutrition, Fitness/Training, Group Fitness and LesMills. However, there are also general contributions, such as the contribution as to whether exercise reduces the health risk from long periods of sitting.
In addition, you will also find many scientific approaches here - sometimes findings from the latest studies as well as helpful nutrition tips.
All in all, every fitness level will find enough input and content to make their training more effective.
The blog is below www.selection-fitness.com/blog/ callable!
23 Dreamteam Fitness – private insights, training tips and nutrition advice
Julius reports on the topics of fitness, nutrition, motivation, balance, lifestyle and much more on his blog. No matter what topic you are interested in, Julius has all the information, funny articles but also very profound contributions.
For example, he reports very openly and honestly about his stress level and his private challenges. The special thing about the contributions is that they are all very authentic and there is something for every type of experience.
The blog is below dreamteamfitness.de callable!
24 Pullup & Dip – Calisthenics Experts
Pullup & Dip have already made an excellent contribution in our expert article. That's why we would like to award them one more time, namely with our seal.
In the blog you will find almost exclusively practical guides and advisors. Here you will find the top 8 exercises for a massive chest or which exercises you can do with a fitness band on the go.
The blog is below www.pullup-dip.de/trainingslager callable!
25 Fitmeals – Healthy Eating, Brain Hacking and Basics
Eating healthy is actually a must. What is much more interesting is the Brain Hack topic. Unfortunately, there is only one contribution on the subject of brain food in this category so far. However, performance is not only decisive in sports, but also in everyday life and at work.
Likewise, many fitness enthusiasts forget the basics when it comes to nutrition. Under the "Basics" category you will find many myths debunked as well as advice on the subject of intermittent fasting
The blog is below www.fitmeals.de/blog callable!
26 Fitness & Food Blog – the perfect combination of nutrition and sport
Here it is announced right from the start that the blog serves more as an inspiration and should not be understood as a clear guide or law book. Regardless of the blog, I like the No Regrets Shop. However, this is not just about nutrition, but health in general.
For example, it is explained very precisely why lack of sleep makes you fat and how important healthy and restful sleep is. However, exciting topics such as collagen or the like are also dealt with.
The blog is below www.fitness-and-food.de/blog/ callable!
27 sneakers in love - super fitness planner and running tips
Sneaker Love is predominantly an outdoor sport and running blog. However, you also get the associated topics such as nutrition, motivation and yoga. The great thing is that most of the pictures were taken by the photographer themselves and you can see the effort they put into it.
I would also like to highlight the fitness planner. This is free of charge and particularly extensive. Here you get a training plan, nutrition plan as well as relaxation mandalas and much more. The blog is definitely worth a visit.
The blog is below sneakerverliebt.de callable!
28 Coco Collmann – Mindfunc instead of Mindfuck and much more
Since I don't want to anticipate too much, you should rather see for yourself what Mindfunc is all about. Coco has a very interesting approach here and speaks directly. In addition, you can find everything in the blog that even slightly improves the quality of life.
Furthermore, the new insights - such as rowing training - are very interesting. But Coco also provides inspiring recipes and delicious dishes. A visit is definitely worth it!
The blog is below coco-collmann.de callable!
29 Fitmedmary – doctor, blogger and athlete
Marie-Luise is a real role model when it comes to sports and professional life. She is a full-time doctor and still manages to train hard. The interesting thing about it is the very well-founded and scientific approach. As a doctor, she knows exactly what she is talking about and it shows.
For example, the article "Triathlon Olympic" deals with training control and other very important aspects. There is already a difference between an advanced and a professional. Marie-Luise is definitely a pro. If you want to read more of her - and I can only recommend that - you should definitely stop by her blog.
The blog is below fitmedmary.de callable!
30 Fitness-Lofts Blog - authentic, approachable and entertaining
Fitness-Lofts is a studio chain that focuses on the personal. The blog not only contains posts from the employees. For example, they present their favorite recipes, all of which are healthy. In addition, there are also interesting articles and guides, such as on the hotly debated superfoods.
Of course, we personally liked the article "Calisthenics in self-experiment" best. I think the idea of ​​designing the gym blog like this is really successful. Here you can see that this is not only for self-expression, but really the reader is in the foreground.
The blog is below fitness-lofts.de/blog/ callable!
31 Slim Gym Club Blog – EMS training and nutrition
Very provocative posts and pictures can be found in the Slim-Gym-Club blog. If that suits you, you will find enough material here to deal with health and nutrition. A small example of this is the blog post "500.000 deaths annually from trans fats".
But not only such critical topics are discussed here, but also how you can motivate yourself better or what a blood group diet or a DNA nutrition plan is all about.
The blog is below slim-gym.de/blog/ callable!
32 Trainhard_Eatwell – Fitness, Lifestyle and more
Elena really takes a lot of time for her blog posts and even takes all the pictures herself. That also accounts for the quality of the blog. There are articles on fitness and health as well as travel experiences. The whole thing is conveyed very authentically and sympathetically.
You can also find private insights into her training sessions on her Instagram profile under the story highlights "Training". Personally, I like the personal touch and also the topic of "healthy gaining weight".
The blog is below trainhard-eatwell.com callable!
33 Super Pump - Kevin brings light into the darkness!
Kevin is a true expert in his field. He proved that in our expert round up. There he answered the question what he thinks are the best 3 bodyweight exercises. Since we think his blog is just as helpful, we'd like to add him to our list.
Kevin not only gives practical tips (training plans or explains studies from theory), but also gives theoretically sound knowledge. For example, here he introduces Starting Strength and why it's the perfect beginner's program.
The blog is below www.super-pump.de/blog/ callable!
34 Calisthenics Workout – Calisthenics through and through
The Calisthenics Workout website has everything a true Calisthenics fan would need or want to read about. We immediately felt comfortable with the clear design and then fell in love with it quite quickly.
It doesn't matter whether it's about basic exercises like push-ups or whether training gloves make sense. Here you will find everything without exception. Personally, I like the Muscle Up Tutorial very much because I managed the first Muscle Up by implementing the tips.
The blog is below calisthenics-workout.de callable!
35 alfa centauri – change and health
The alfa zentauri blog is less about fitness. The focus here is on change and health. Health and fitness is about more quality of life, peace and contentment.
You can also find delicious recipes and calisthenics exercises there. The Wim Hof ​​method is very interesting – I hadn't heard of it before. Each blog post is extremely authentic and a lot of fun to read!
The blog is below alfazentauri.com/category/personal-growth callable!
36 exercises at home - training plan, exercises and more
Exercises at home offers the ideal training start for beginners - regardless of whether you have a gym available or can only train from home. The blog then revolves around general fitness topics - for example the simplest fitness tools for at home as well as fascia training.
Here you can also find informative articles on the "Crossfit" sports trend.
The blog is below uebungenzuhause.de/category/blog/ callable!
37 Fitness blog by Mirjam
Mirjam has probably registered the most popular domain ever. However, she lives up to it. Her contribution is particularly interesting, in which she reports on what it was like at Shopping Queen in Nuremberg. Add to that the helpful posts and the appealing Instagram profile.
On the plus side, the blog covers any sports topic, making it the perfect place for beginners and advanced users alike!
The blog is below www.fitnessblog.de callable!
38 Marvinsfitnessblog.de – the all-rounder
Marvin's blog is comparable in scope to Mirjam's fitness blog. He covers topics such as motivation, nutrition, fitness and bodybuilding and provides creative ideas on how to cook healthier and tastier.
Personally, I like the "Motivation" area very much, as there are really very personal contributions here, so that you start your training more motivated afterwards or even get off the couch at all.
The blog is below marvinsfitnessblog.com callable!
39 blog-fitness.de – from endurance to muscle building
Most of the fitness blogs that have been presented so far have had little to do with endurance and muscle building. However, this blog, which writes really extensively about the topics of fitness, muscle building and endurance, changes that. However, injuries are also discussed here.
It is very nice that you quickly recognize the professional competence here. It doesn't matter whether it's training methods for preparing for the season in football or contributions in the area of ​​motivation - sport has been around here for a long time.
The blog is below blog-fitness.de callable!
40 Fitfore – clearing up the myths
Fitfore is mainly about practical guides for improved fitness and health. This image is reflected in the blog. What is positive to mention here, however, is that Fitfore consistently deals with fitness myths and clears them up.
Be it the myth of meal frequency, intermittent fasting or even BCAAs through dietary supplements. After all, these are hotly debated topics and many beginners fall for such myths.
The blog is below fitfore.de/blog/ callable!
41 Then I'll do some sports
The blog is particularly good to read. But not only that has promoted the blog to this list, but also the interesting contributions, such as "Sport in everyday life". Here you will be presented with a household workout, so that you can also exercise in everyday life. It doesn't matter whether you're cleaning windows or vacuuming.
You will also find a lot of personal contributions here, which builds a strong connection to the blog. After all, not only beautiful topics are discussed here. That gives a big plus in terms of authenticity.
The blog is below ichmachdannmalsport.de callable!
42 Fit with Pascal
You can see that Pascal knows what he's talking about by his excellent form. He imparts this knowledge in his fitness course as well as in his blog posts. The article "Eating out when on a diet" is particularly interesting, as this is always a problem for more professional athletes. But the amateur athletes also want to be able to eat outside of course.
The personal touch is also important. After reading the Cuba travel report, we immediately felt like going on vacation!
The blog is below fitmitpascal.de/fitness-blog-deutsch/ callable!
43 Flying Evi – Yoga, regeneration and workout
A very personal blog is the blog of Flying Evi. She not only reports on personal experiences such as the cryosauna or the Leguano barefoot shoes, but also gives practical tips on the topics of self-love, yoga and regeneration.
Regeneration is an extremely important topic. Without regeneration there is no increase in performance and no muscle building. In addition, her Instagram profile is also run with a lot of love. The private insights also arouse curiosity and show Evi from her personal side!
The blog is below flyingevi.com/fitness/ callable!
44 Holistic Fitness with Eyleen from Hamburg
Eyleen puts a lot of effort into her blog. This is shown, for example, by the interview with world champion Markus Deibler. Here she provides her readership with really high-quality tips and tricks that even professionals use.
In addition, there is also a lot of reports about the fit lifestyle and offers practical content such as the stretching program for the thoracic spine and shoulders.
We find their approach particularly good – quote "a holistically healthy life". Exactly this approach can be seen throughout the blog.
The blog is below holisticfitness.de/fitness/ callable!
45 Fitness Warrior - Christina and Norman
Christina and Norman offer not only inspiring recipes and helpful articles in the area of ​​training exercises, but also very scientific approaches such as the two-part cruciate ligament rupture study or the volleyball prevention program.
After all, prevention in sport is a very important topic, which should not be neglected. But basics such as healthy jogging are also discussed in detail and very factually. We like the blog very much and we can only give one recommendation!
The blog is below fitnesswarrior.de/blog/ callable!
46 Jumuuv – Health and Fitness
Clean eating is Julia's passion and you can see that directly on the website. Julia is a personal trainer and shares her knowledge and experience here. We particularly like the Recipes and Clean Eating section. After all, we practice these approaches as well, and that's especially lovely.
However, Julia is not only focused on fitness, but also on balancing. So it looks at the overall fitness of a person. For example, she reports on training with the slackline.
The blog is below jumuuv.de callable!
47 Robsterize - Calisthenics for beginners
Robin is a gym owner and lives for calisthenics through and through. There is even a special section for this on his website. Here you can get a professional calisthenics training plan. The mobility aspect is also listed separately here for the first time. Mobility is hugely important for proper execution.
This can prevent injuries and strain the muscles much better.
The blog is below robsterize.de callable!
48 Laufcordi – everything to do with running
Cordi is not only an avid runner, she lives to run. She shows this excellently and very accurately on her website with many great pictures and exciting articles. We find the reports of the runs - such as the Berlin Half Marathon - particularly exciting.
After all, you don't get such a good look behind the scenes everywhere. Cordi also takes all the pictures himself and some of the perspectives are really epic.
The blog is below laufcordi.com callable!
49 Workoutoftheday – from functional fitness to mobility
Workoutoftheday or WOD for short is an online magazine for crossfitters. This is about functional fitness, nutrition and mobility for a healthier and fitter lifestyle. The contributions are all exciting and always offer added value. We especially like the interview with Kevin Winkens. The magazine also regularly hosts hands-on competitions featuring fitness-related articles. The latest news and current events can also be found there.
The blog is below workoutoftheday.de callable!
50 Spreecrossfit – WODs
In this blog you get the latest posts and WODs that Nico is always happy to share with us. Due to his experience and knowledge, the WODs are always very demanding - but that's how it should be after all. He also reports there on upcoming workshops, functional fitness in old age and other fitness programs.
The blog is below spreecrossfit.de/de/blog/ callable!