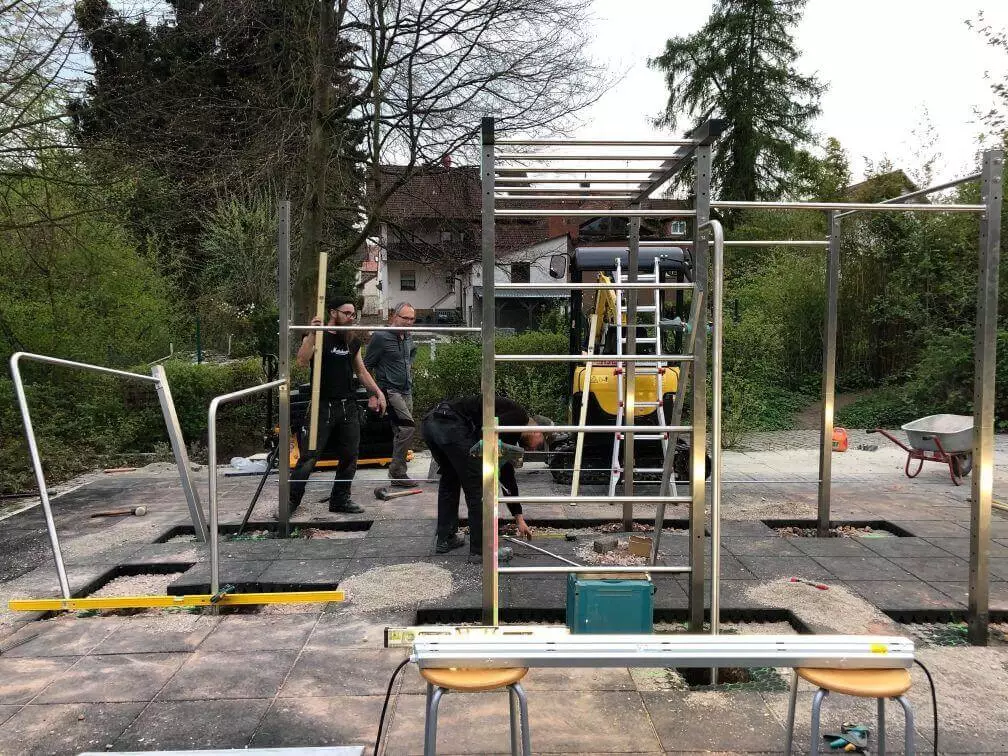 Gymnasium Hösbach received TOLYMP Cross system
A really great project worth emulating: The "Health and Golf" project was implemented at the Hösbach school center near Aschaffenburg. Thanks to the help of numerous sponsors from business and a very committed sports teacher, it was possible to finance a street workout facility from TOLYMP and a small school golf facility.
The aim here is to offer the children and young people further sports activities and thus, also outside of the regular physical education classess to awaken enthusiasm for movement and fitness.
The well-known physician Prof. Dietrich Grönemeyer has been won over as patron for this extraordinary project. He will inaugurate and hand over the entire installation at a ceremony.
Our assembly team has them TOLYMP Cross The system was installed and the floor work required in the public area was carried out. Fall protection plates made of rubber granules from our cooperation partner WARCO were laid. Together with the TÜV certification of the TOLYMP system and the fall protection designed according to DIN, the system is approved for use in public areas.
The unexpectedly hard ground had given our assembly team an involuntary night shift to be able to keep to the set time frame. Many thanks to the boys for the great effort!
Official opening with patron Prof. Grönemeyer
On May 6th, the time had finally come: At the Hösbach school center near Aschaffenburg, the "Health and Golf" sports area was inaugurated and handed over to the enthusiastic students.
Together with the patron, the well-known physician Prof. Dr. The entire installation was handed over to Dietrich Grönemeyer and numerous guests and sponsors during a school ceremony.
Special thanks go to the initiator of the entire project, Chris Davis, who, as an extremely committed and competent sports teacher, was able to put a long-cherished wish into practice.
We are already planning the next project together with the Hösbach high school; Using a smartphone app, the students should be able to call up training instructions including videos and save their training progress.