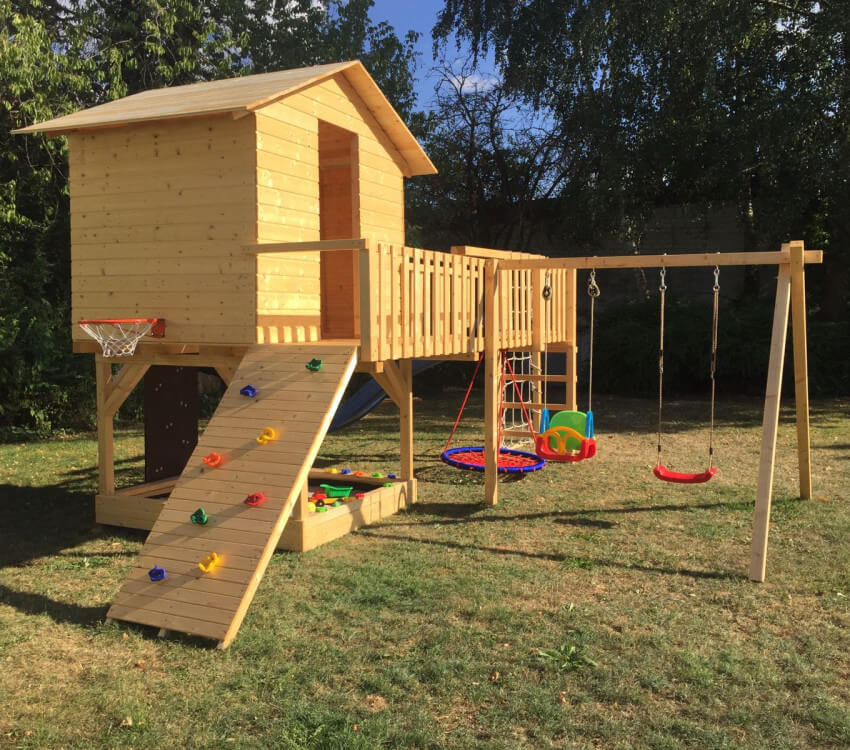 Play tower – games, fun & movement for the little ones
A play tower or climbing tower in the garden is not just there to pass the time. Here the children get to know and assess their own body in a playful way and with lots of fun and movement.
Anyone who has landed here on the TOLYMP website probably doesn't need to be told how important movement is. You have already recognized this for yourself, otherwise you would not be here.
But what about our little ones? With the kindergarten and elementary school children?
They need a lot of movement for their development and have to try out a lot in a playful way. You can't do that in front of the TV or games console, although unfortunately that's far too often the case these days.
To make matters worse, the kids are often "parked" there. But more on that later...
The play tower as a miracle weapon for child development
As a piece of play equipment, a play tower not only offers pastime, but also promotes such important factors as:
Motor skills
coordination
Imagination
social behavior
Motor skills – Climbing, swinging, sliding and everything else are all games that train motor skills while playing. And all that outside in the fresh air.
Coordination – hand-eye coordination in particular is trained here. The feet are also included. You wouldn't believe how many children have problems moving their feet at the same time, but separately controlled.
Imagination - A play tower invites you to role-play. That's a lot better than just consuming stories in front of the TV.
It is much better: If you read to your kids, you encourage them to act out the stories on the play tower. Especially when there are princesses and their knights, pirates or other characters with whom they can identify. This stimulates the imagination, because the images have to be formed in the head instead of being feigned by the TV.
That's why horses, pirates & Co are also such popular motifs in the accessories for play towers.
Social behavior – Play towers are very popular with siblings or friends. This often leads to minor frictions that have to be settled.
And that's a good thing, because children have to learn how to deal with conflicts and how to solve them.
3 children and 2 swings, for example - of course all 3 want to be on it and a compromise has to be found. It's great to watch and see the discussions begin.
Role-playing games are another important point in social behavior, which is stimulated by a play tower with the appropriate accessories.
So you have the perfect playground equipment for your children in your own garden. Of course, there are many other aspects besides the ones mentioned. To enumerate them here would be too much. I have written an e-book for this that you are welcome to download from my website.
If I want all that, I'll go to a sports club...
One does not exclude the other. It complements each other rather well, because the foundations are laid in free time.
Every day, in the fresh air, on the street, in the garden or in the forest.
That doesn't happen in the club, except maybe mother-child gymnastics or something similar. It is actually required there!
1-2x a week in the club and the rest in front of the TV is useless. Apart from that, without the essential basics in the club, children often lose interest because they lose touch.
At least that's how I know it as a coach from the children's gymnastics club.
Where would you park your children now?
In front of the telly, or rather on a play tower in your own garden?
A play tower is much more of a play paradise
Despite all the advantages of promoting movement, the play tower is and remains one thing:
A cool play paradise that your child will love you for!
It doesn't matter whether you convert the tower into a climbing tower with the appropriate accessories or create a fantasy world.
If you now do without pressure-treated wood and spare your kids the chemical club, you have done everything right.
We at KLETTERTURM.DE will be happy to help you answer any further questions you may have and to find the right tower for your kids.
See you soon and keep moving!
About the author
Oliver Falk is the founder of KLETTERTURM.DE. As a former gymnast and coach for children's gymnastics, he knows the trend towards less exercise among children with the resulting fatal consequences for physical and mental health. That is why he has taken up the cause of getting the children off the couch and into the garden, where they can exercise more and develop better in a healthy environment.