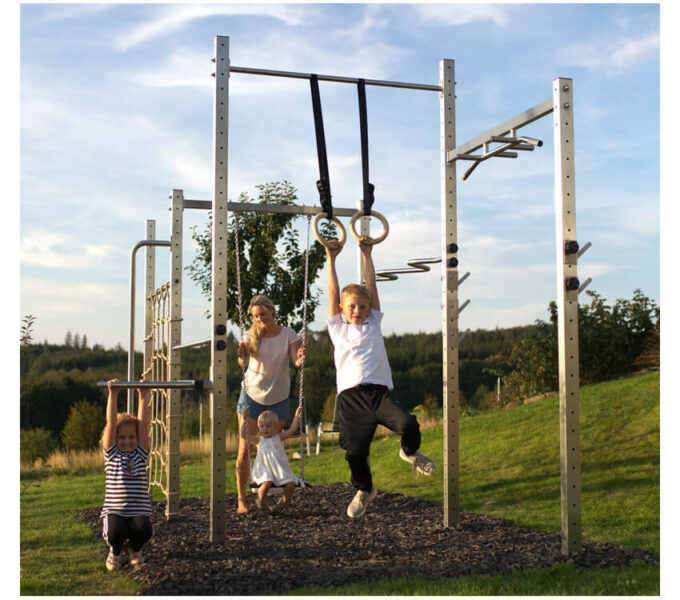 Outdoor fitness for the whole family
Outdoor training has never been more popular than this summer. with Stainless steel fitness stations it is possible to get that gym feeling right at home in your own garden. For strength and mobility training, the stations are great fun for all age groups from athletes to seniors. The kids also love climbing over the monkey ladder or swinging on gymnastic rings. The best thing is: After the workout, the sunbathing lawn is not far away.
A few points should be considered when planning the outdoor area so that the garden becomes a playground for young and old.
What should you consider when choosing fitness equipment for the garden?
It is important that the devices are weatherproof and can withstand any weather. V2A stainless steel is suitable for years of use; this also offers enough stability and safety for dynamic training exercises. Larger stations and gymnastics bars should best be concreted into the ground.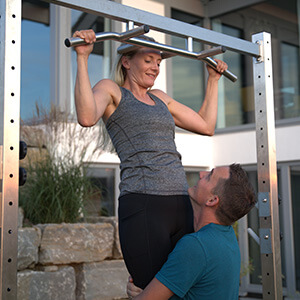 Which exercises can be trained at the station?
The entire body can be trained at an outdoor fitness station. Depending on the training goal, there are fitness stations for trend sports such as Calisthenics and crosstraining or mobility training and classic strength training. In principle, most stations can be assembled from elements such as pull-up bars, dip bars, monkey bars, barbells, sling trainers or even a climbing ladder. If you want to set up a real ninja warrior park, you can attach additional accessories for climbing and hanging, such as pull-up balls, gymnastic rings or a climbing rope.
How big should the garden area be?
From a width of 2 m, a gymnastics bar with the right accessories can become training and play equipment for outdoors. Smaller fitness stations can already be set up at 3 x 4 m. A safety distance of approx. 1,5 m should be maintained all around so that you cannot fall on garden tools or furniture.
What play facilities are there for children?
Many children can already spend hours climbing at the station. It can be played on a swing or gymnastic rings, hung upside down in the climbing net and then slid down the fireman's pole. Younger children should be supervised when playing.
How expensive is a fitness station?
Prices vary depending on manufacturer and size. qualitative high-quality gymnastics bars made of stainless steel are available from around €400. The costs for smaller fitness stations, for example the TOLYMP Tower start around €1.500 and Calisthenics stations from around €2.500.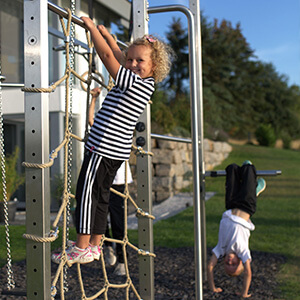 What should the floor surface be like?
The floor should be as level as possible. If the station is properly aligned, it can also be set in concrete on a slope. Either lawn can be sown as the floor area or a subsurface such as wood chips or fall protection mats can be laid for better fall protection. Most fall protection tiles can be installed using a puzzle-type connection system for a permanently safe and smooth end result. A panel thickness of 60 to 80 mm is best suited here.
How is the outdoor studio set up?
If you assemble it yourself, you can save on construction costs - a fitness station can be easily set up and aligned with two people. Individual elements such as gymnastics bars and pull-up bars can usually be assembled with a simple quick adjustment. If you don't want to set it up yourself or lay the floor covering: garden landscape builders or some manufacturers of the stations also offer an assembly service.
With a few tips, every garden can become an outdoor fitness studio. Great fun for the whole family and for anyone who doesn't just want to get sore muscles from gardening.
Our bestsellers for the outdoor gym