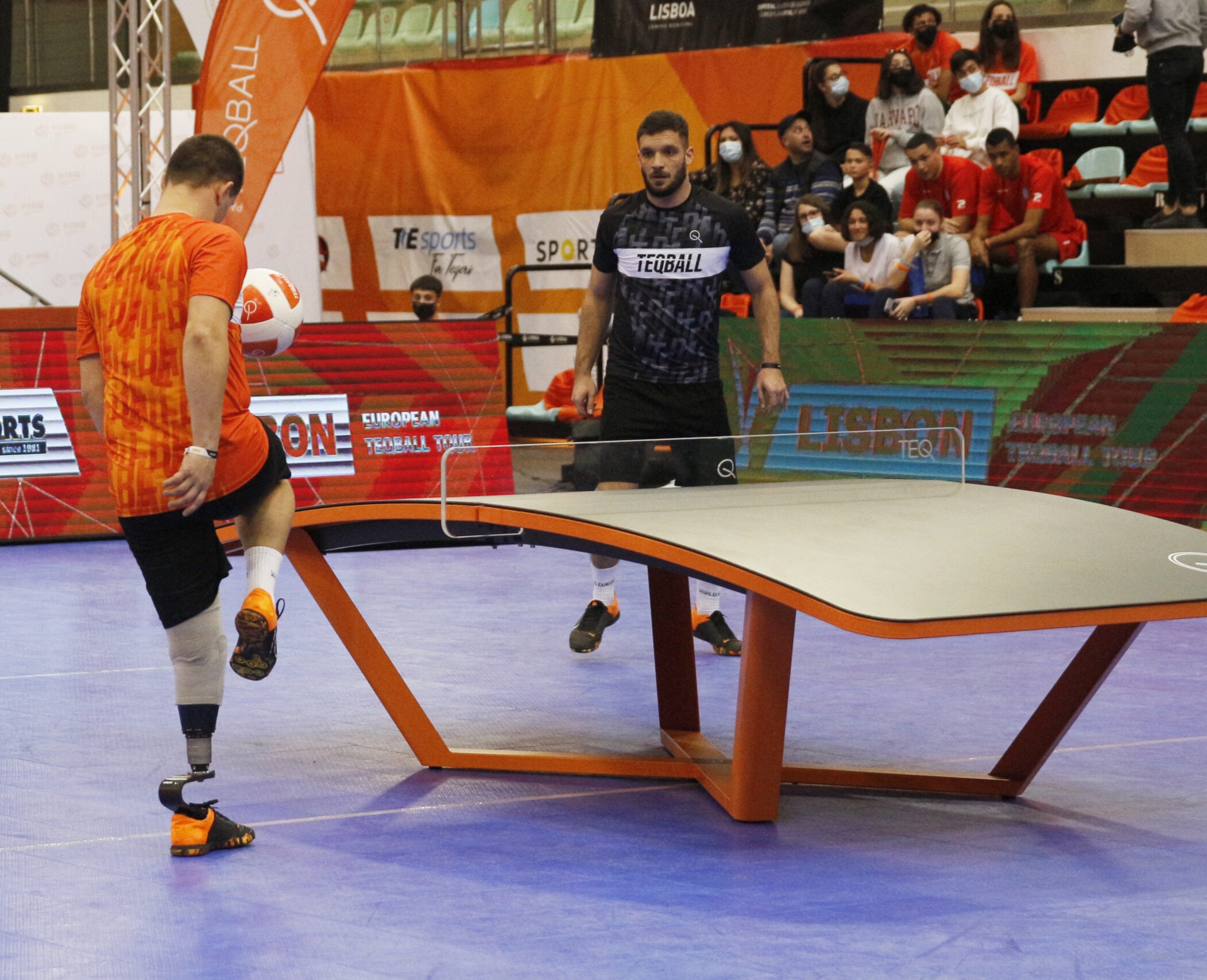 Teqball – what is this sport all about?
Teqball is a new and exciting sport that has grown in popularity in recent years. It was created in 2014 by a Hungarian soccer player and combines elements of table tennis and soccer. The game is played on a curved table that looks like a cross between a table tennis table and a football table. The idea behind Teqball is for players to improve technique and ball control by hitting the ball with every part of their body, from head to toe. There are already many countries that have recognized teqball as their official sport and there is even a world championship. Teqball is a great way to improve technique and gameplay skills and is definitely worth trying!
What is teqball now exactly?
Teqball is a fast-paced sport that combines elements of table tennis and soccer. Players use their head, feet, chest, legs and even shoulders to hit the ball from different twists and angles. The game takes place on a curved table that looks like a combination of a ping pong table and a football table. The object of the game is to score points by hitting the ball over the opponent's goal line. The first player to reach 11 points wins the game. Teqball is a great way to improve technique and game skills while having fun!
There are different ways to play Teqball, e.g. B. Freestyle, doubles and team play.
The Freestyle two players compete against each other on the same side of the table.
The double play is a bit more strategic and two teams with two players each compete against each other.
The team game Four players compete, with each team occupying one half of the table.
Regardless of how you play teqball, it's sure to be an exciting experience for everyone involved! So if you're looking for a new and exciting sport, give Teqball a try!
The advantages of teqball
Teqball is a fantastic way to start your Improve ball feel and coordination. But that's not all this sport has to offer. The fact that one being able to train all year round makes teqball a great option for athletes of all types. The best part is that you can only one player needed to get started. But that's not all - Teqball also offers the possibility to play five different sports. In addition, you can play teqball practically anywhere - on the beach, on snow, in the garden, indoors or on the soccer field. All in all, this unique sport offers many benefits and is an absolute must for anyone looking to improve their skills.
Who can play teqball?
Teqball is a sport that is suitable for anyone who knows how to handle a soccer ball. However, children under the age of eight should refrain from doing them. Players not only need ball control, but also concentration and endurance. The innovative Teqball table is used in various places, such as schools, universities, clubs or public places in the city.
The positive effects of Teqball sport on the body
Teqball is not only a fun game, but also an effective workout for the whole body. It improves mobility, concentration and coordination and promotes cardiovascular endurance. Other positive effects of Teqball Sports include strengthening entire muscle groups rather than individual muscles, leading to increased dexterity, strength, and mobility. Regular training can therefore not only be helpful in improving playing skills, but also offer an optimal supplement for a healthy and active life.
Teqball versus other new ball sports
Compared to other ball sports like qatch, teqvolley or teqpong/teqtennis, teqball has some unique rules. For example, the ball must be returned within three seconds, touching the opposite plate only once. Unlike teqvolley, where the player is allowed to jump up with the serve, such jumps are not allowed in teqball. Each of the above sports has its own distinctive features and appeals, but for those seeking the challenge and skill on the court, teqball could become the newest obsession.
Teqball is also a great way to stay active and have fun with your friends. Even if you don't consider yourself an avid football fan, Teqball offers you many opportunities to challenge yourself, train your skills and improve your game. The combination of all these qualities makes teqball one of the most popular new ball sports.
Federation Internationale de Teqball (FITEQ)
The Fédération Internationale de Teqball (FITEQ) is a worldwide federation dedicated to promoting the sport of teqball. FITEQ organizes international competitions and encourages cooperation between players, clubs and national federations to promote the growth and popularity of this emerging sport. As membership grows and enthusiasm for teqball grows, FITEQ is expected to play an increasingly important role in international sport.