Our founding story – how it all began…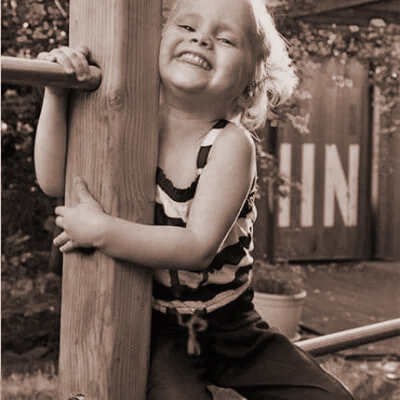 "Mom... Dad... I want a horizontal bar for gymnastics, please!"
With these words and big saucer eyes, our daughter Sara stood in front of us at the time. Your request?
That we set up a gymnastics bar in the garden for her so that she can practice. Of course we wanted to make her dream come true - but unfortunately we couldn't find a good device on the market.
Many products were made of cheap materials and looked accordingly. And at the sight of the safety standards and the lack of quality, chills ran down our spines as parents.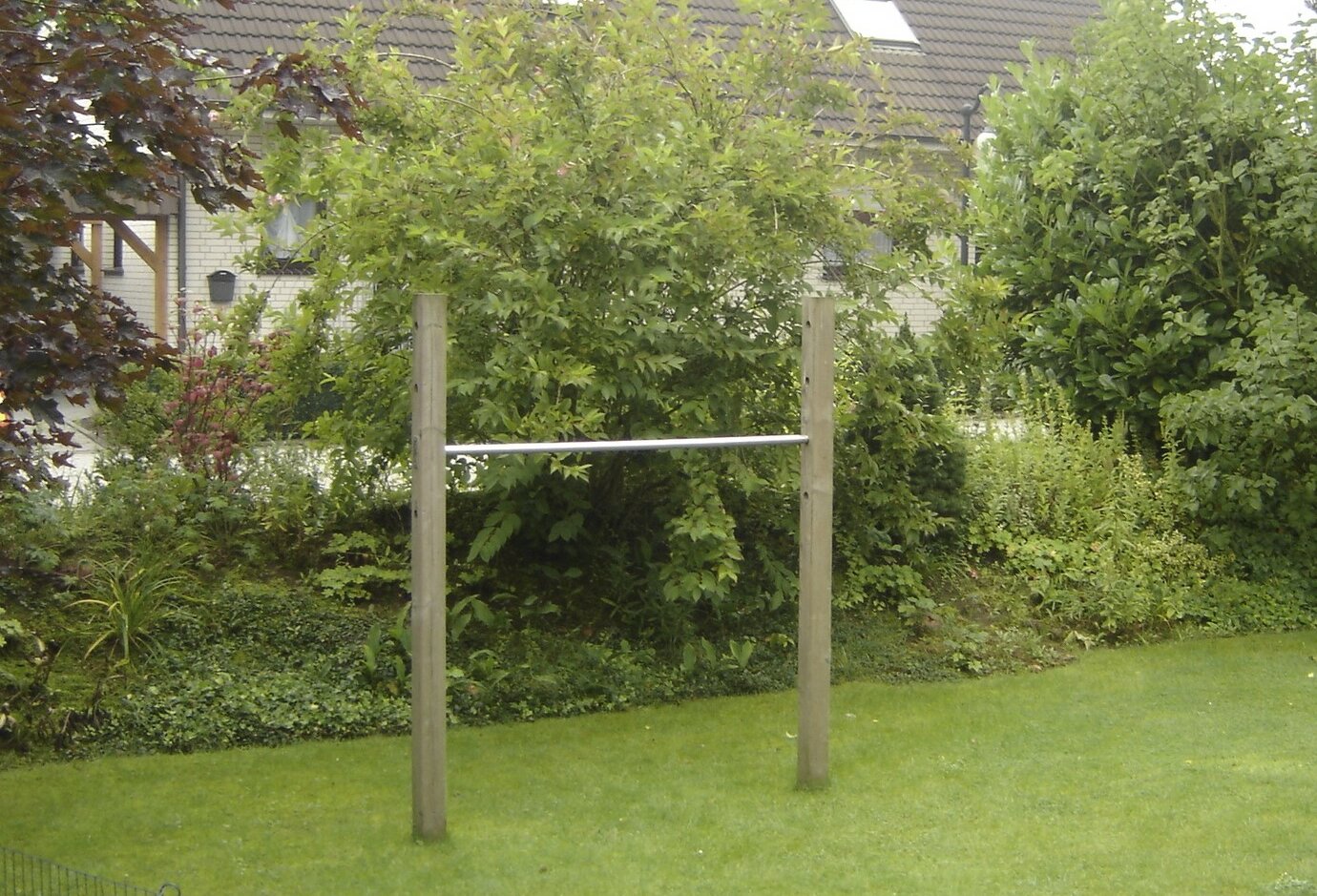 Sara's gymnastics bar for her sixth birthday.
We said to ourselves: There has to be a better way. So in 2003 we started building our own gymnastics bar. And what can we say: our children loved it. And not only them: the kids from the neighborhood also thought our own creation was great, so it was not surprising that their parents soon got wind of the new gymnastics equipment in our garden. And suddenly we had a lot of inquiries.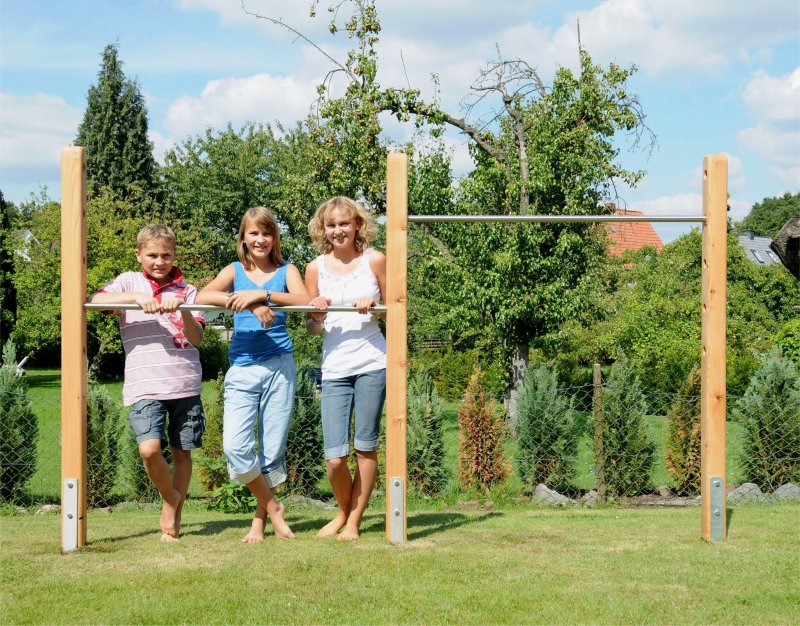 First double bar with gymnastic bars made of stainless steel and larch wood from our own production.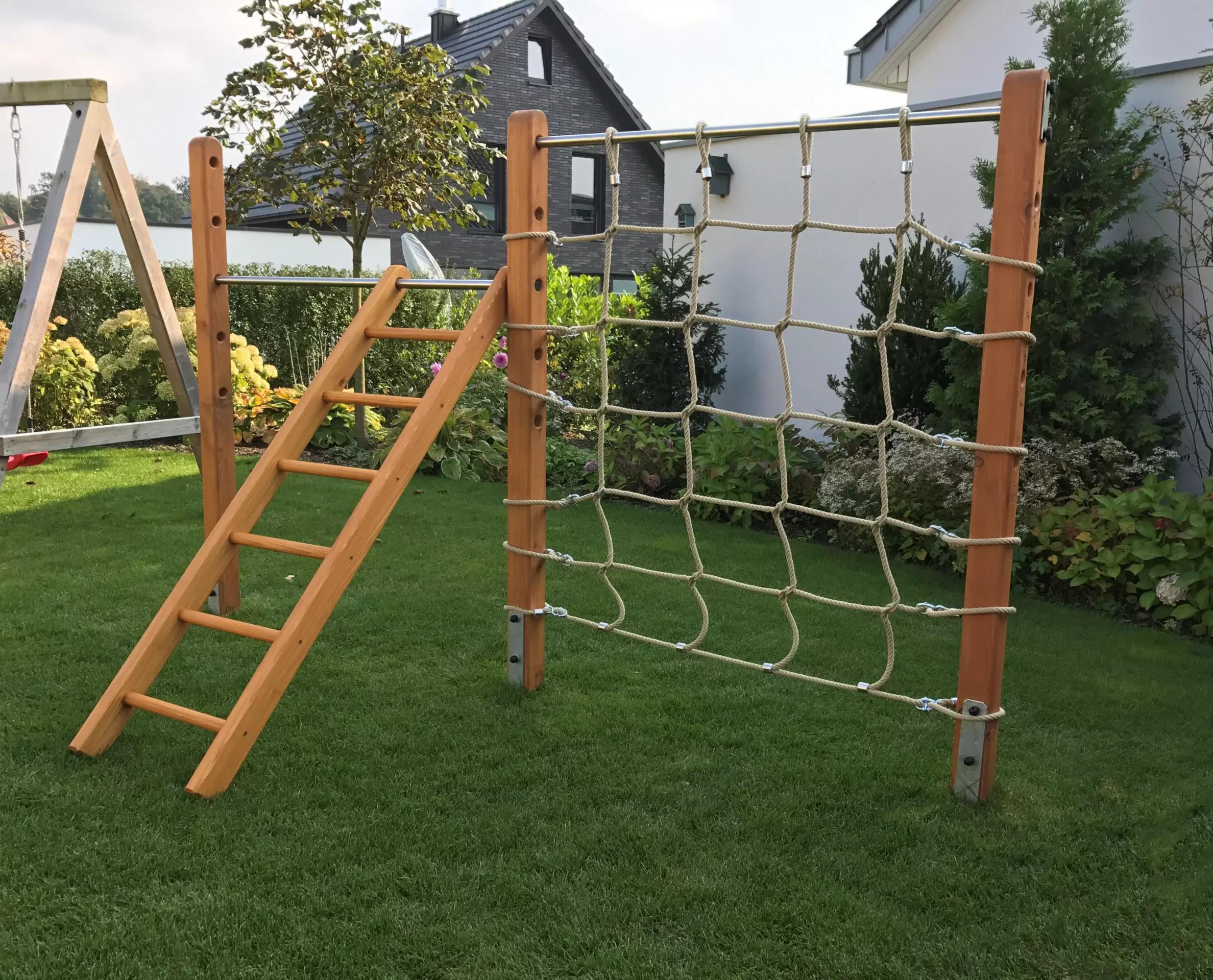 So we rolled up our sleeves, improved our construction and continued to tinker in our garage. After the double horizontal bar, new ones came Extensions with climbing net and rung ladder. Our first Online Stores www.turnstange.de and www.sandkasten.de went live in order to be able to supply families - far beyond our neighborhood. Also have we are looking for partners and suppliers who share our understanding of good products and whom we still trust today.
Curative Education Aid Osnabrück we work together from the beginning. Other great partners such as specialized stainless steel processors from the region came later.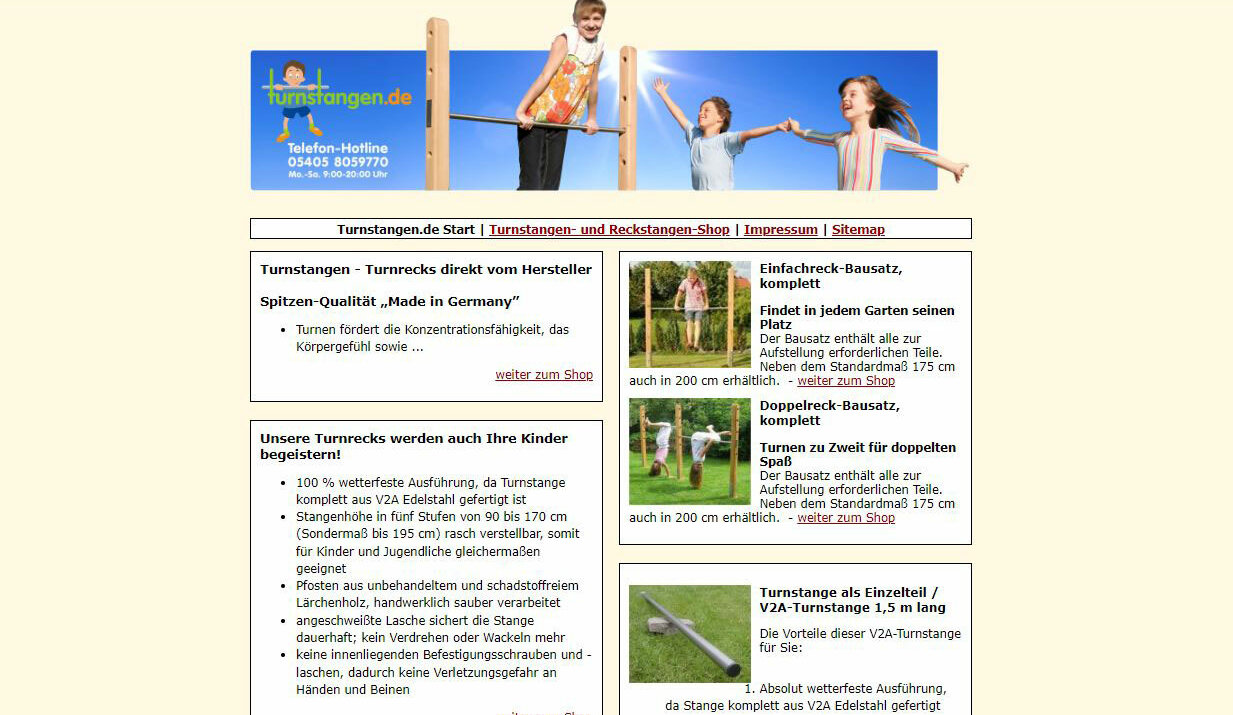 First own online shop www.turnstange.de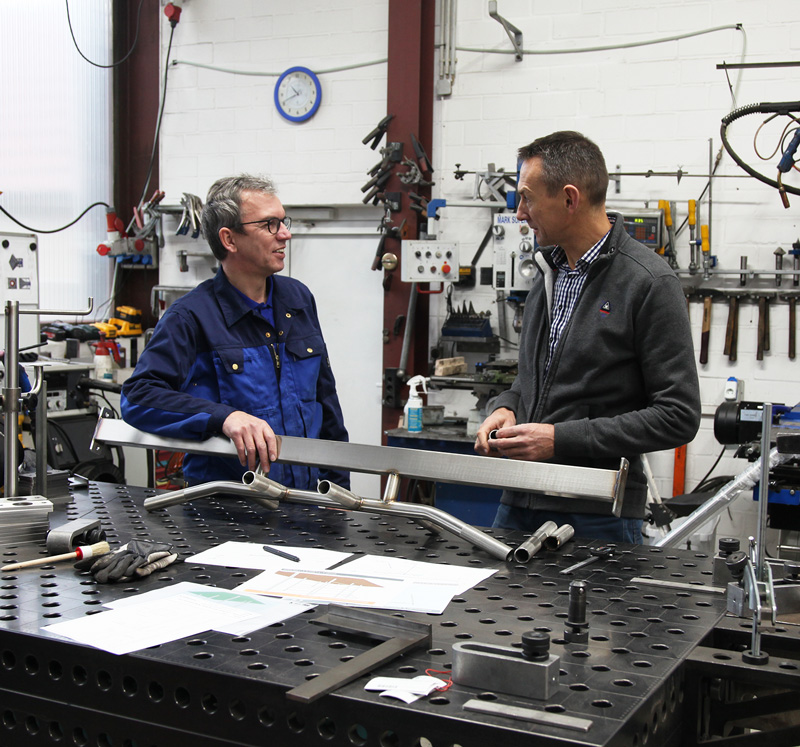 As a father and founder, Arno was able to decades of expertise as a mechanical engineer let loose. From the very beginning, it was important to us to involve experienced athletes and families in the development process. Thanks to this team power, it didn't take long before we first sports stations made of high-quality V2A stainless steel the children could design and adults can use.
In 2016 the time had come: The official TOLYMP brand was founded.
The first 3D plans of larger fitness stations in the CAD program.
As you can see, a lot has happened to us since then. We have ours Product range constantly developed and expanded - from the gymnastics bar to the extensive outdoor world. Our devices are in Gardens, outdoor gyms, public facilities and in companies. Athletes and fitness enthusiasts train with our weight training equipment. Seniors use our fitness and mobilization equipment to stay mobile and energetic. And children are just as enthusiastic about our larch wood gymnastics bars and sandpits today as they were then.
In short: We design the perfect outdoor stations for outdoor sports and play.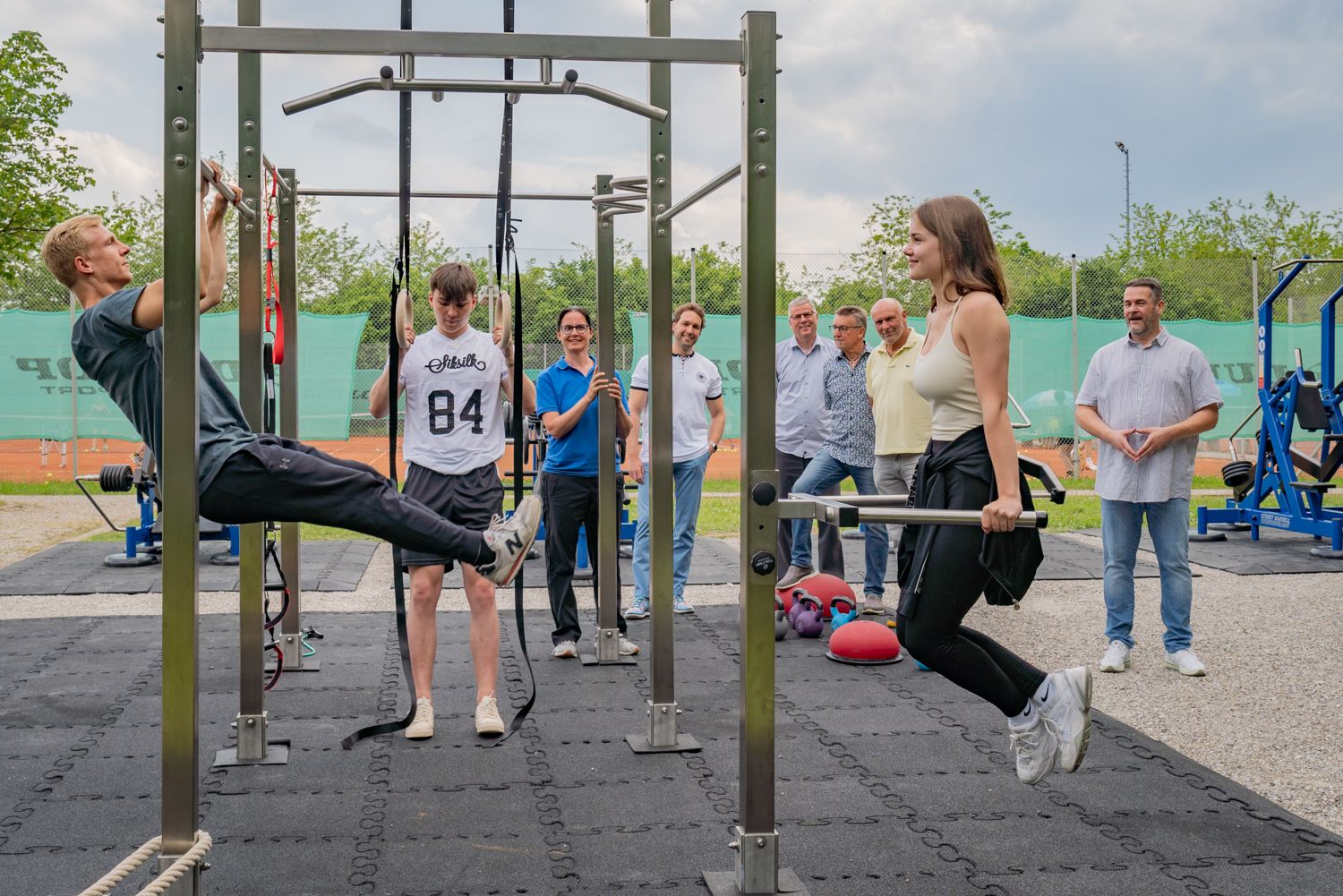 TOLYMP calisthenics station according to DIN EN 16630.
Our claim is still the same as at the beginning.
We still build our products with the standards that we had as parents back then. Therefore lies our Focus on quality, safety and durability. Our family, friends and customers are with us on our journey and it is very important to us that they are all fans of our brand. the personal contact and comprehensive service are therefore particularly important to us. we also pay attention to our environment and use durable materials such as European larch wood and V2A stainless steel. We also rely on the expandability of all stations - so that you can adapt them to your needs and they will accompany you for many years to come. To avoid unnecessary emissions, we keep our transport routes as short as possible and rely on one climate-neutral shipping with GLS.
There's still something going on in terms of sustainability, right?
We thought so too. That's why we digitized our processes right from the start and at the same time opted for a paperless office. Because our team works 100% remotely and is based in the Osnabrück-Münster area. In this way we save a lot of driving costs, emissions and above all time.
Time that our creative minds can use for new ideas, exciting projects or personal matters of the heart. And if you are now wondering how we feel about team cohesion: It is just as stable as the V2A stainless steel from which our stations are made.